You've committed to building a business online. A big part of that strategy involves marketing your products and services to your ideal audience.
In my last post, I talked about the reasons why you need to have a newsletter for your business.
Today I'd like to cover five different strategies you could employ as you commit to communicating with your dreamiest clients.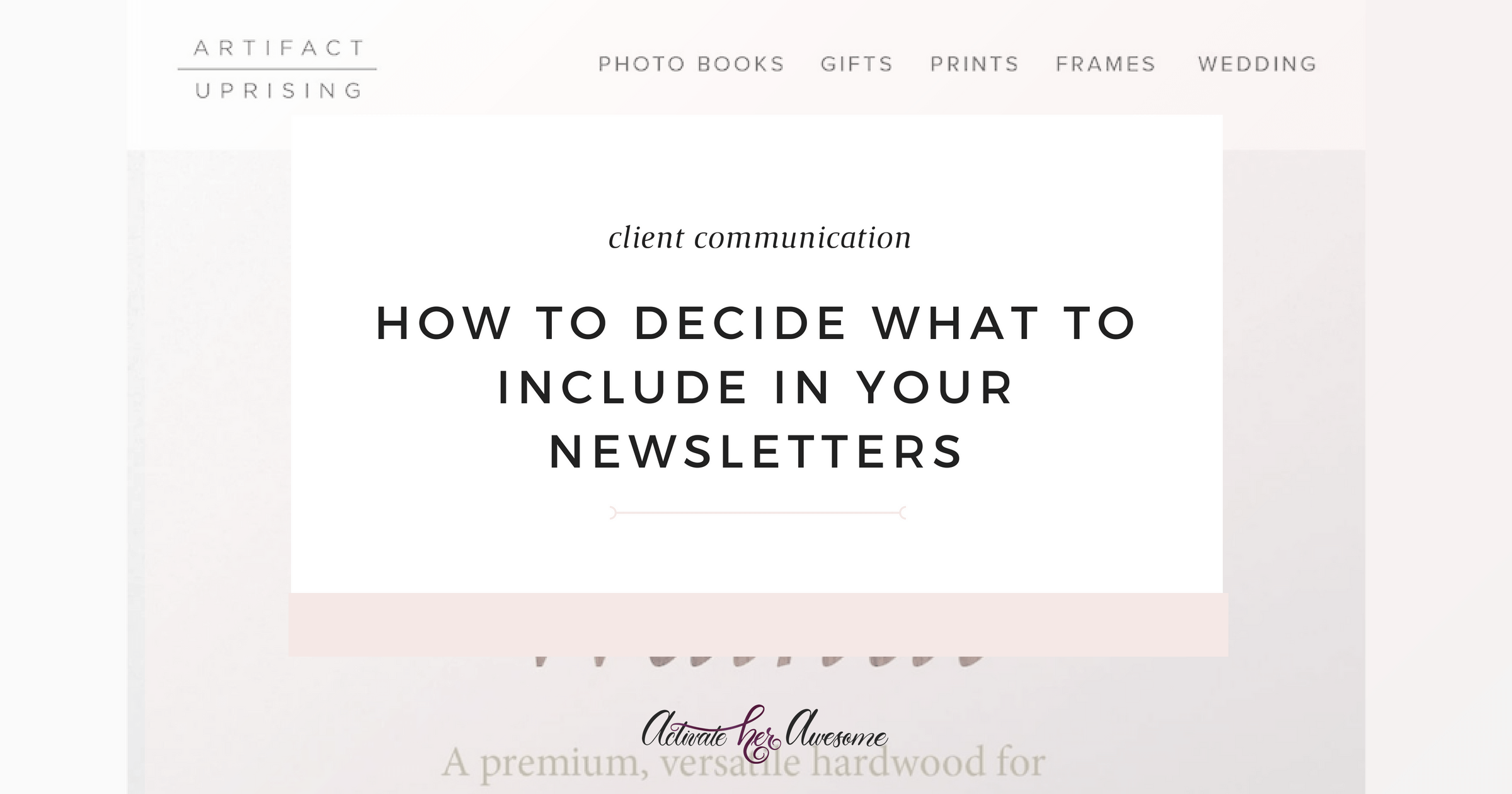 Before we dive into the strategic part of delivering content, I'd like you to pause for a moment and hop over to your own inbox. I know you've given your email to a number of businesses. It's important for you to notice what kind of content engages you.
Some questions to ask yourself as you observe your own engagement:
What is it about this email that engages you?
What are they doing to capture my attention — did it work?
What would have been a better (or different) way to engage me?
What would I have preferred?
The reason I want you to notice what YOU like is that your own clients and customers will also prefer the same type of content.
When you notice an email from a business that engages you, how could you apply those same principles to your own business?
Five strategies you could consider when delivering your own content:
Image Rich – Most of the product companies I allow into my inbox fall under this category. They do an amazing job of using their product photography to engage me. I particularly love the way Artifact Uprising does their newsletters. They're minimal, engaging, and give me just enough motivation to click through and be inspired to purchase.

Condensed Content – Several brands that come into my inbox are doing a great job at offering me a précis or a condensed version of the blog post they've posted online.I get everything I NEED in my inbox. They give the highlights of what they cover and respect my time with a call to action that involves heading over to their website to read the full post if I want all the details.
Excerpts – This is again a way to distilling content to encourage your readers to head over to your blog to interact with your full post. You only include the first couple of paragraphs in your newsletter and have a button that will allow your audience to hop over to your website to read it in full. This is a fantastic strategy if you have a loyal following who typically always click through. It's a great way to encourage your audience to interact with your content. You're not giving your clients everything they need with this strategy; you're intentionally only giving them a small part. There is tremendous value in getting your audience to head over to your website — they may also be inspired to reach out to hire you. The drawback is that not everyone clicks through.
Delivering Your Full Post – This is my own personal preference AND favorite way to deliver. I use to only deliver an excerpt but found once I looked at my analytics that I was getting VERY few people clicking through. Plus, I realized it's not my own personal preference so of COURSE my audience wanted the full post! I love it that I can access ALL the content the moment I open your email. I don't need to jump through any hoops to read it fully and I can get all the information I need in the post. Of course, I could head over to your website to comment if I'm so inclined but those of you who employ this strategy will keep me as a reader a lot longer because I sense you're respecting my time. This fits in well with my, "How can this be easy" mantra.
Exclusive content – This is an awesome way to reward your readership. They get access to exclusive content that ONLY goes to the audience who are a part of your newsletter. I can see myself moving more towards this in the future.
Now that you've had a chance to examine your own preferences and read about a few of the strategies that exist to engage your newsletter subscribers, I hope one is becoming a clear favorite.
I'm curious — how do YOU use your newsletter? Or, if you're just starting out, how would you like to use it?